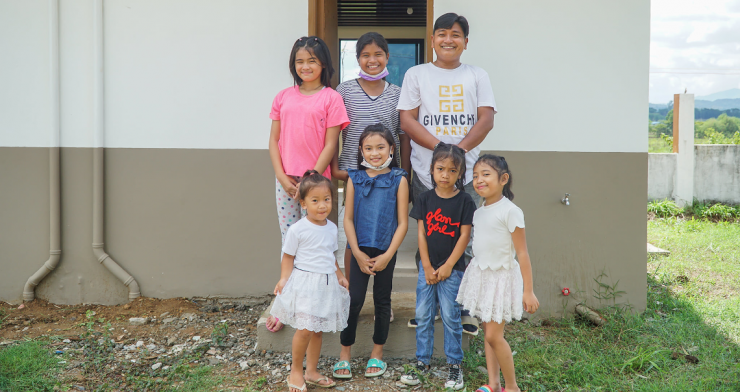 A New Home and Training Center for Transformed Hearts
Our God is alive—this is what we saw last June 19, 2021 during the Sambahayan Dedication and CCT Kasayanan blessing at CCT Lupang Pangako, Kalikid Norte, Nueva Ecija led by CCT Kaibigan Ministry Inc. & Kaibigang Maaasahan Multi-purpose Cooperative.
Right before our very eyes we witnessed the promise of God unfold as seven of our fellow kaibigans (former street dwellers) were blessed with new homes which were constructed by fellow kaibigans from C's Kingdom Builders—the construction arm of the cooperative.
In partnership with Wholistic Transformation Resource Center (WTRC), this housing project began last year with the objective to not just build houses but also to see Christ-centered faith communities among our kaibigans.
Kuya Leroy Lamiseria, a former street dweller who spent 12 years of his life on the streets shared his testimony on how he was transformed by Christ. "Ngayon nandito ako sa isang lugar na walang humahabol, hindi nauulanan, hindi naiinitan, at nakakatulog ng maayos talagang napakabuti ng Diyos." As an expression of their thanksgiving, the children of the kaibigans performed and dance their heart out to the Lord.
Furthermore, in partnership with AMG Skilled Hands Technological College (ASHTEC), Nueva Ecija University of Science and Technology (NEUST) and through the gracious donations of the Delos Santos Family Foundation, Inc. and Tany Foundation, Inc., CCT Kasanayan will be offering courses such as masonry, plumbing, driving, electrical installation and maintenance, refrigeration and air conditioning repair, and welding to the kaibigans and residents of nearby communities. Incoming senior high school students are also welcome to avail of the technical vocational courses.
CCT Kasanayan will also have a community museum that will showcase Philippine artifacts as a testament of the nobility of the Filipino race. Various weaves and linens from different tribes in the country will also be included in the exhibit.
In all these, Ate Ruth Callanta reminded everyone that, "as long as the Spirit of the Living God is in this place that we have constructed, by His grace it will be blessed. But if the Holy Spirit leaves this place because we have forgotten Him then this place will be destroyed."